Christmas Parade and Bazaar December 4th! Important information about the parade and bazaar went home today in your child's folder.
Ephesus Christmas Parade and Bazaar December 4, 2021 The lineup will begin at 9:30 A.M. at Hoyt Rogers' Field and the parade will start at 10:00. We would like to invite any businesses or organizations to enter a float, antique car, motorcycle, truck, horse & buggy, etc this year. Contact the Ephesus City Hall at 770-854-8616 if you would like to sign up. Immediately following the parade, Ephesus Elementary School will be hosting the Christmas Bazaar and Festival from 10:30-12:30. We have lots of vendor opportunities for anyone that would like to reserve a booth. There will be all sorts of games to play including Bingo, Cake Walk, Toy Walk, and much more. You can contact Ephesus Elementary at 770-854-4400 for more information.

Help us continue to get better if you're the parent/guardian of a Heard County Brave currently enrolled in grades K-12! Each year the GA Dept of Education administers surveys for us to collect data to continue to improve! Thank you in advance for your feedback.
https://gshs.gadoe.org/parents

Parents If you want your 3-5 grade student to participate in the dental clean and sealant program, please return your form by tomorrow. If you have lost your form please contact the front office.
Parents: A couple of reminders for you: First, please do not drop your children off at EES before 7:00. We have had a couple of our elementary students that have been down on the sidewalk before an adult arrives for supervision. 7:00 is when we will be out and on the sidewalk to greet students and get them to the gym. Secondly, Health check forms were sent home from DPH in your open house packets. If you wish for their child to participate, please have them turned in by 08/16/21.

Reminder: Chick-fil-A Mobile Unit is coming to Franklin starting TODAY! Located in downtown Franklin next to the fire station from 11AM-2PM.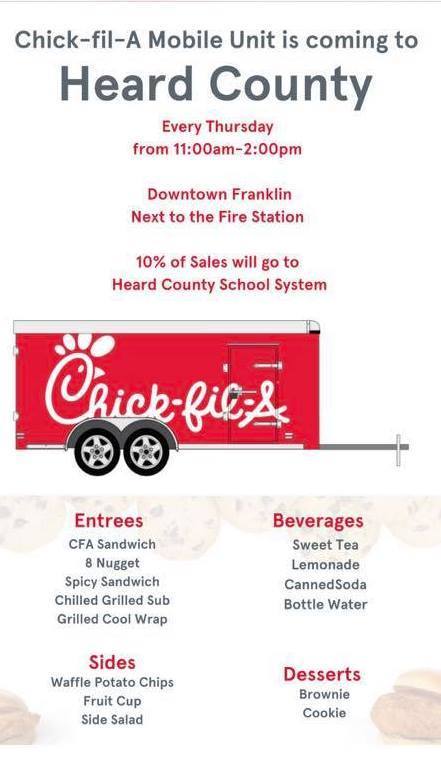 Thank you parents today for your help during dismissal. You did a great job of ensuring buses had the space needed to get into the parking lot. We appreciate your patience as we got car riders loaded. It will get faster and more efficient as we go. We had a great day at school. We loved having our student back in the building with us. One last thing if you are planning to use the after school program next week you need to contact the office, get signed up and pay your fee. Students can not stay unless they are signed up and payment is made by Friday of this week. Thank you have a great evening.
Good morning Parents We are so excited about the start of school tomorrow. Just a couple of reminders before we begin. Drop off and pick up are in the back of the building. Car riders may begin to drop off at 7:05 in the morning. Buses will be taking middle and high students in the morning to HCMS and HCHS if you need transportation. Pre-K and Kinder parents may walk their child in to the building tomorrow. Everyone else will be in the gym. Teachers will be there to meet and greet you there. There will be someone in the office in the morning if you have medication, documents, or proof of residence to turn in to the office. In the afternoon, dismissal will begin at 2:45. Bus riders will dismiss first, please do not block the entrance into the back pick up lanes, buses will have to come through and then cars can pull in behind buses. Remember middle and high students will not be brought to EES in the afternoon. We are looking forward to a great first day and a great school year. Please contact the school if you have any questions. MBrooks
Monday August 2nd is Open House! Open house will begin at 10:00am and will continue until 6:00pm. You will begin your open house time in the gym. You will check in with Mrs. Pam. After check in you will then be able to walk to your child's classroom. Below is a list of things you will need to be prepared to do at open house. Beginning of the year paperwork completed through our online platform.
https://ees.heard.k12.ga.us/
If you do not have access to good internet, you can complete forms here at the school when you arrive. Proof of residence (This should be a bill, such as a utility bill, that is in your name.) If you rent or lease and do not have a utility bill in your name, you need to bring a utility bill from your landlord with the landlord's name, the address you are providing as proof of your residence, and also a notarized letter from the landlord confirming you live at the address given. If you are living with a relative, the same procedure applies. Bring any updated medical forms and medications that need to be kept in the clinic for your child. Meet your child's teacher Pick up your child's student folder from the teacher.
EES families First, thank you for your patience as we work through the kinks with our online registration process. We have a couple of pieces that we want to clear up. First, it does not matter which school webpage you go to to access the registration links. Once you are in and completing the forms, you will be able to add all of your children no matter which schools they are attending. You only have to complete the registration forms one time for your family. Second, Pre K students are required to complete these registration forms in addition to the Pre K specific forms that you have already completed. Last, if you are applying for the After School Program (ASP), please make sure you complete the ASP Registration(this will only be done one time) and then complete the ASP Weekly Registration to indicate the days your child will be attending ASP. Again, thank you for your patience. Continue to reach out if you have further questions.
EES families we are preparing for your child's return to school. In an attempt to make things easier for you, we have put all registration and back to school forms on line. Below is the link to give you more information about how to access these forms.
https://youtu.be/3M-GKNbg5KE
Parents we are so excited to be able to offer an after school program for all of our Pre-K through 5th grade students this upcoming school year. Below you will find an attachment with some questions and answers about ASP. There will be other information provided over the coming weeks. Please do not hesitate to call the school for further explanation or questions regarding the program. 770-854-4400
https://docs.google.com/document/d/1uU9n-9fhy5QEi3k41jLzdJHyH10v-ioB1nj_Wl45CSs/edit?usp=sharing
We are planning for the upcoming school year with you in mind! This year we are excited to announce that our Heard County School System will be providing school supplies to ALL students at every school this year! We are so grateful and thankful for this blessing. The link below will show you what the school system is providing for your child. There are a few additional items that you will need such as a book bag and if your child is Pre-K age they will need a nap mat. Teachers will also need items like Kleenex and zip lock bags. There will be a list of these items in your open house information packet if you would like to purchase for the class. Again, a huge thank you to our Heard County School System for this awesome gift! Here is the link:
https://docs.google.com/document/d/17X-nkRoA_jjjIPd68lKuJVqu7wrekzchJv73vgTDCJk/edit
Just a reminder that 3rd- 4th -5th grade students will be taking the milestones test beginning tomorrow. Please ensure that your child is present and on time. The students are well prepared and are going to do GREAT!
Parents Our class pictures are ready for viewing and purchase. Please go to the following website billmillerphotographers.com and use this code: EPSGROUPS21 to access your child's class picture.
Parents: Tomorrow we will be celebrating Hoops For Hearts and Valentines with a special Heart Hero dress up day. Students may dress as a heart hero (superhero) for the day. Valentine cards are welcome. Classrooms will have time to exchange Valentine Cards. Teachers have some special activities and treats planned for the day. Remember that Monday is a student holiday and school will not be in session.
Parents we seem to have the stomach virus running through EES. Please know that your child must be symptom free with out the help of meds for 24hours before returning to school. IF he or she leaves from school because of sickness the 24hours begins from the time that the child became sick at school. If you have questions please contact the school.